PBN Site Building Integrated With Easy Blog Networks
Up until recently I paid well into 4 figures renting a PBN network that I never owned but was for em to use exclusively.The cost of this was pretty decent but I never properly used it and so it was wasted and now the guy has stopped offering the service.I went looking for an alternative and I found a Fiverr gig run by Syed who has been great work with and he is fast, willing to learn and does exactly what I have asked.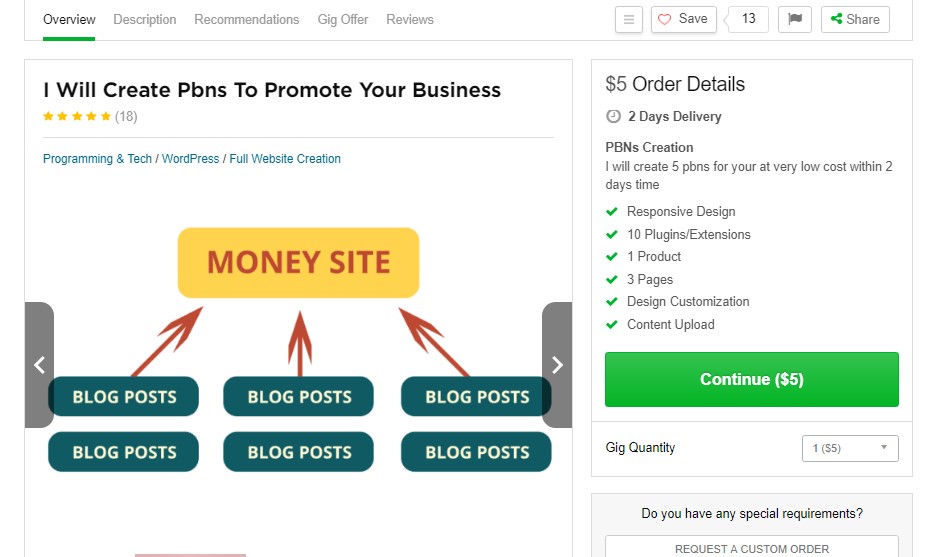 The best part is that he charges just $5.00 per site for basic site set up in your easy blog networks account, a logo, a different theme on every account and the basic pages added to your site.This does not come with any content.But within a day your site is set up and ready to add content and you can start small with easy blog networks and upgrade to more sites as and when you need.Syed knows the system well enough but you will need to go in and mix up your plugins a little to avoid any footprints from having the same plugins on every site.For five bucks this is a great value gig, it's a time saver and even more important… it stops you from making excuses for not doing it.Easy blog networks is a great system, they remove a lot of the footprints and you have different class c ip's for every domain.All you need to do is find the expired domains, register them as I show on this blog post and start to add content to them.
Here Are Some Quick SEO Tips to Help With Your PBN Management
Get Content On Your Site Fast and do not put this off, you will forget or not get around to it for some reason or another, just be disciplined and get content on there even if it's from an autoblog tool.
Once you have content on your site then ass WP RSS Xtreme and add plugins for Video, Mobile and Image xml sitemaps from wordpress repository.
Use the plugins after you have 5 to 10 posts done then use the plugins mentioned above and don't forget to ping your sitemaps after you have created them. This will get you indexed quickly.
Do not add any links to your money site for a few weeks, I still have about 30 domains with no links to any of my blogs or niche sites and some of these blogs are 5 months old. Some PBN sites I have links added that are 2 months old but never less than 8 to 10 weeks.
Add YouTube Videos to your new PBN before you create your video sitemap, this not only helps in creating the sitemap but will make the video show up in the search results with your domain url.
If you are not happy with a theme that Syed installs then tell him and ask him to change it, no point in complaining, he does a great service for $5.00, just ask him to change the theme and he will.
Get a few relevant forum links to your PBN site, you can get these on fiverr and I will tell you in the next recommended fiverr SEO blog post who to use and how much it costs with some extra strategies using forums.
Get a list of all live links pointing to your PBN domain and ping and index these links with whatever link indexing service you are using.
If you have multiple YouTube channels outside of your main channel Google account then add a link to your new pbn site within a YouTube video description. It also helps with faster indexing.
In my opinion it's best to add links to your blog or sales pages or money sites by adding the link to an existing post that you created previously. This is not for any major SEO ninja strategy, it's just to make sure that when you need links you have content already created to add a link to rather than not using your network because you delay and put off creating new content so that you can add your links.
I will do a separate blog post on PBN links and how to use them and another on linking to your PBN sites too in future, but stick with those tips above and you will get started quickly, at low cost and without delays.
If you build out 15 to 30 PBN sites first, you can stagger these over several weeks and before you know it you have a nice little network to add some major firepower on demand to any SEO campaigns that you choose.I prefer to have a mix of generic domains and niche relevant domains and this allows for linking to just about any niche site that I choose.
Get PBN Sites Built For You With This 5 Bucks Gig