Hey Guys,
Ok sorry for delay in this report, but it did allow me to do a little bit extra research for to help make this as actionable as possible for you and for me 🙂
Later in this report i will do a live demo of setting up offers to convert but as always these things need spilt tested which isn't hard to do, it's just implementing a mindset of being "willing to increase your awareness of what's working, in order to increase your profitability."
Are you willing to do that with this strategy?
If you are then this will work out really well for you long term in the things you will notice, learn and implement in future campaigns.So the profit Regin course was quite in depth and the upsells gave away some campaigns and exact landing pages that has converted really well.Now we want to add some more ideas to what they have already done which is a super simple strategy that offers huge potential to test out new ways to use it.Ideally you will have some Lead Magnets to give away and you can get some PLR stuff here for just $27.00 for 1000 lead magnetsor here…
Great Value – They have pre made professional graphics designed specifically for bonus pages to look great and professional so that we can quickly add to bonus pages for fast and easy formatting and a major time saver.
This costs just 10 bucks a month and we get 20 new bonuses per month
More PLR Sites For Lead Magnets
chevron-right
chevron-right
chevron-right
chevron-right
Now let me be honest with you, I recommend not using PLR for this and instead add something that's new, fresh and higher value.
Check out my miniscraping technique to get some ideas on how to do lead magnets with high value at low or no cost.
I am going to do this bonus in two parts, one part you are reading now from the blog and the second part in a private member are where I do some over the shoulder demonstration of miniscraping and another of using PLR in  a way that adds value and makes the conversions better and more importantly improves your targeting.
I won't go too deep into the profit reign strategy here or with more resources until part 2.
The reason I am doing this part on the blog is that this is a great system and finally a way to be able to get value from solo ads.
The basis of the profit reign strategy is to send solo ads to a landing page that ask them to confirm with push notifications.
That's something that some people may think is enough to run with and not bother to spend 12 bucks on the course, but it really isn't.
The course gives some valuable insights in to what's working and why and the high converting landing pages too.
Thiose did come about by simply throwing up a page and getting optins, they were created with trial and error and split testing by implementing a mindset of being "willing to increase awareness of what's working best, in order to increase profitability."
Remember that?
Good, we may even revisit it again as that's what is essential for this strategy!
Now for Solo ads there are some resources I will add to the private members area and I have included well known resources as well as lesser known resources.
Did you know for example there are places where you can buy higher quality traffic?
Syre there are the well known places like Udimi, but there are others and although the costs are higher the quality and yu gcan get more specific with targeting.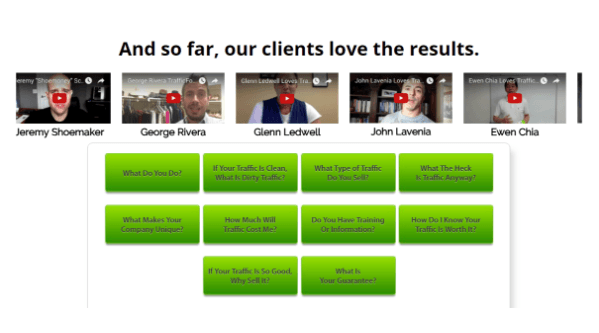 This is not the only one and I have been on the look out for higher quality places to get higher quality traffic from ads for quite some time including better targeting, buyer lists and higher quality lists, even if it costs more initially.
You will also be better off to stick to solo ads vendors from established solo ad sites.
Why?
If you don't you lose your protection.There are a bunch of scoundrels out there who will not deliver what they promised and who will rip you off.These people are not selling traffic, they are selling hope with a crap attitude and best avoided.I know as its happened to me multiple times and even from people who were recommended some solo ad traffic sellers to me.Essentially that's all that solo ads is as a business model, its selling traffic and we all know that there are various qualities of traffic.Now keep this in mind…ANYONE can build an email list of shitty quality from places like adfly, that traffic is not worth a lot yet they will charge you the same as other people with higher quality lists.Its a much better investment in the long run to spend a bit more and get more guarantees on the quality of the traffic and then "nurture them into email lists"Anyway, I needed to cover that but we need to get back on to the strategy stuff.but….If you stay within the established sites where they are rated on performance then you are much safer and you have the best chance to
Link Tracking
You will need some sort of link tracking too.
Sure you can start off with goo.gl shortner, that works fine on a basic level.
EasyLinks is one time cost, low cost and good enough for what we are doing here, there are other tools to consider once you start to do this consistently, we will get into those later on the blog when I post some case studies.
Maximise Your Traffic
You can take this strategy much further with tools like PerkZilla, UpViral, Quizitri & Lead Genesis can help you do this AFTER they have signed up to your push notifications.These are either referral/reward marketing apps that encourage them to reshare your offer in order to get an extra bonus, or list building with segmentation tools. They can be used to add people onto an email list too and with segmentation you can discover what people are interested in so that you can provide the type of content and offers that they will respond to best.
Recommended Funnel
Ok when doing a funnel for list building you will get best results if you can give something away that you can demo (if it's a software for example) or show a case study with proof of results.As the software option is faster and easier I will do an example demo using ONLY free PLR tools in order to increase their perceived value.Free Tool With Demo – See My Example BelowLow Cost Upsell – Dollar Trial Affiliate link, or Low Cost Affiliate Offer Like Titan Products)If you bought profit Reign from my links I will approve you as an affiliate for a special Dollar Trial offer to Video Synd Alpha and Vid Attack Alpha – Just apply for links and PM Tanya or Stephanie to get Your Links Approved.To do this funnel I will use three free PLR tools and show value in them by showing how to use them.I will also link to a blog post on how a lady who knows nothing about SEO makes 5 figures per month doing just ONE thing for SEO that is included in one of these tools.
What's the one thing she does for SEO?
​She only targets keywords where the all in title competition is so low that she is guaranteed rankings.I found a tool that does this and I will give it for free in the private members area and show you how to use it in combo with the other two tools to do this strategy easily.There was another tool that did this but they charge $97 for it.I have a free tool for you to use instead :)That training will be in the private member area only available to people who have purchased Profit Reign from my link.If you didn't get Profit Reign yet and want to see more in depth training on this strategy and new ways to use the strategy then you can still
I will also include a solo ads and traffic spreadsheet to help keep you on track as well as more resources for targeted and higher quality  traffic too.
See you in the private members area!