In this article I will be digging into the Local Rank & Rent business model that many SEO's have tested. Some very successful and others maybe found that is isn't as simple as first thought and moved on to another business model.This article is actually part one of my Rank & Rent Local SEO course and will be the only part of the course made available publically with the rest of the course being made available to members only. However, there is a LOT of great information here for anyone who is thinking to get started in Local Rank & Rent and I have covered "some" of the main questions that you are likely to be asking. So let's start from the beginning basics about the strategy and steadily progress through to the more advanced stuff.
What is rank and rent?
Rank and Rent is a term used for ranking websites, landing pages, YouTube channels or videos. usually (but not limited to) for local or offline business niches and then renting or selling to businesses once there is rankings and traffic.Think of it as digital real estate that you build and then increase it's value by ranking for keyword phrases that drive traffic consistently. This would be equivalent to renting a shop in EITHER a high traffic or big spending area.For example if you have a shop in Oxford street in London you will have high volume traffic but if you have a shop in Rodeo Drive, Beverly Hills in California then you have high spending traffic and less volume customers.
In relation to the Rank & Rent business model, both of these scenarios can work well so as we go through the rest of this discussion let's change out the thinking from "high volume traffic" as thats not always the case for a successful Rank and Rent project and instead use the term "High Value Traffic"Make sense?Great so let's get into the nuts and bolts…
Why You might want to consider rank & rent as a business model?
The Rank & Rent strategy is often perceived as an easy way to make recurring income. Getting rankings for keywords that have decent search volumes or high value traffic AND that people are advertising for on Google Ads for example seems to be a simple business model right?It's like selling advertising or renting in a high value traffic area where there is already a proven advertising spend.The initial thoughts for most people getting into this as a business model are driven to the simplicity of the strategy and that it makes sense on multiple levels.
If you do your keyword research right this can be scaled by getting traffic from easy to rank keywords pretty quickly while optimizing for the more competitive keywords that are likely to take longer to rank for​
what are the pros and cons of rank & rent?
The Pro's for Rank & Rent are easy…
The Cons for Rank & Rent are less obvious (at first)
What methods of work rank & rent to consider?
Let's keep this part simple and cover the basics.
Videos and YouTube ChannelsMany people have been doing this with YouTube videos because it seems easier to rank videos and easier to scale and others have gone further by building out high value YouTube channels with videos that rank for multiple keywords within a niche.Another major factor to most people with the video rank and rent model is that it is less time and less cost than doing it with a website.Websites and Landing PagesThere are some great case studies of this around the web with one guy in particular having ranked domains with "near me" keywords and sold them on flippa for around $7000 if I remember correctly.The landing page model can be done in two ways…
Rank a landing page using mass page building and bulk redirects or with a splash screen type landing page on top of the bulk pages.
The same as above but redirecting to an external landing page on a different domain.
The black hat SEO's have tried this in multiple ways and there are tools built specifically to do this that are mostly available at a monthly recurring cost.
What are the best niches for rank & rent?
Watch These Videos For Finding A Niche
Rank And Rent Local SEO Part 1 Choosing Your Niche
Rank And Rent Local SEO Part 2 Choosing Your Niche
Rank And Rent Local SEO Part 3 Choosing Your Niche
It's hard to define if there is a right and wrong here, but let me map it out in two ways to make it easier to consider
Go BIG….
For example (and this is not an exhaustive list or a recommendation, it's simply to demonstrate what I mean by Go BIG)
Go BIG With Franchises
Go BIG With Dealerships
Go Big With Insurance
These are high value and high volume niches and if you can crack these niches you will have some high value properties with multi locations.This is a great model if you want to stick to one niche and create a roadmap for ranking in major cities and states.The other advantage for this, and in my mind a slightly better (but more advanced) option, is that if you are having difficulty to rent or sell your properties then you can switch the business model to selling leads instead.It's a longer and more challenging road but the rewards can be high.I recently spent an evening reverse engineering a site that I saw on Flippa that was selling for 6 figures and discovered multiple people using the same business model and earning in the higher end of 6 figures per year.To do this model would require investment of time and money and having a clear roadmap.
Go Deep…
This is finding sub niches of the bigger niches or finding niches that are less obvious but have a high value demand.For exampleIf you look at the Auto or Insurance niches there are multiple types of health or insurance products.Some of these products may not be high volume but they can be high value. For example I know a guy here in Pattaya who buys and sells people's existing insurance policies… I had no idea that this even existed but I do know that he is making a very good living from it.If you do this in the Auto Industry then you have new car models coming out every year and that may offer you an easy way to get first foot in the niche and dominate it early.I'm sure there are a ton of lucrative smaller niches around too and if you use the seed term "LUXURY" in some keyword research tools like I did when I started writing this article, then you will find a ton of ideas that may offer less competition and less time to rank and get traffic.If we take a quick look in Serpstat (a great tool and lower cost alternative to Ahrefs at just $19 per month which is great value even though Ahrefs a streets ahead in many ways, especially with their keyword database)This screenshot below is from doing a search of PPC keywords and we find here in total 66 keywords based around a search for "LUXURY NEW YORK"When I download and look at the list of advertisers there are a lot of big names from large organisations and with authority sites that would be hard to compete with on SEO. However, these same companies may be willing to pay you for leads depending on the niche.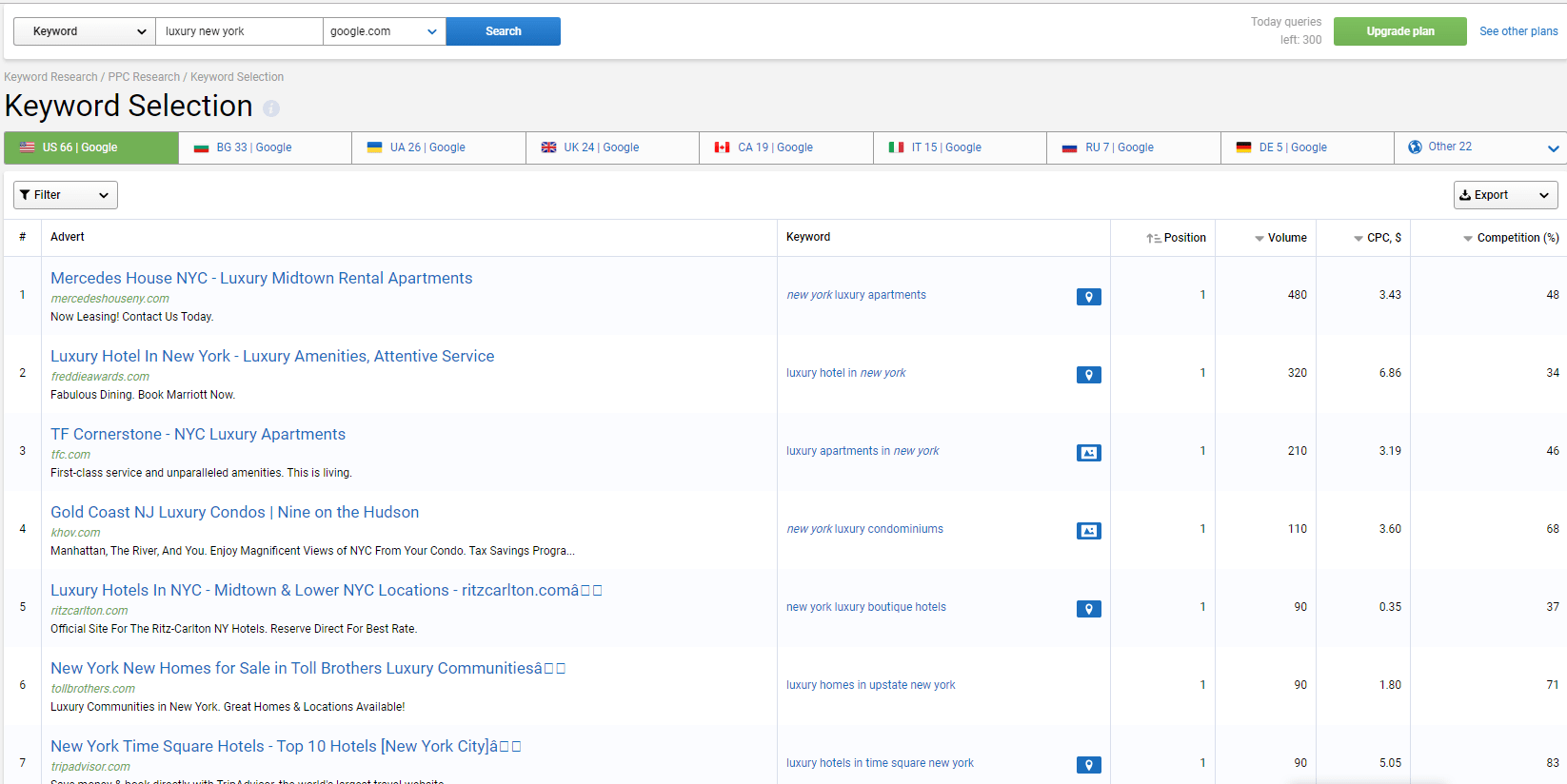 If I do the same search in the SEO research section I find 334 keywords and within those keywords there are multiple niches that may offer an easier way in to rank on the first page of Google.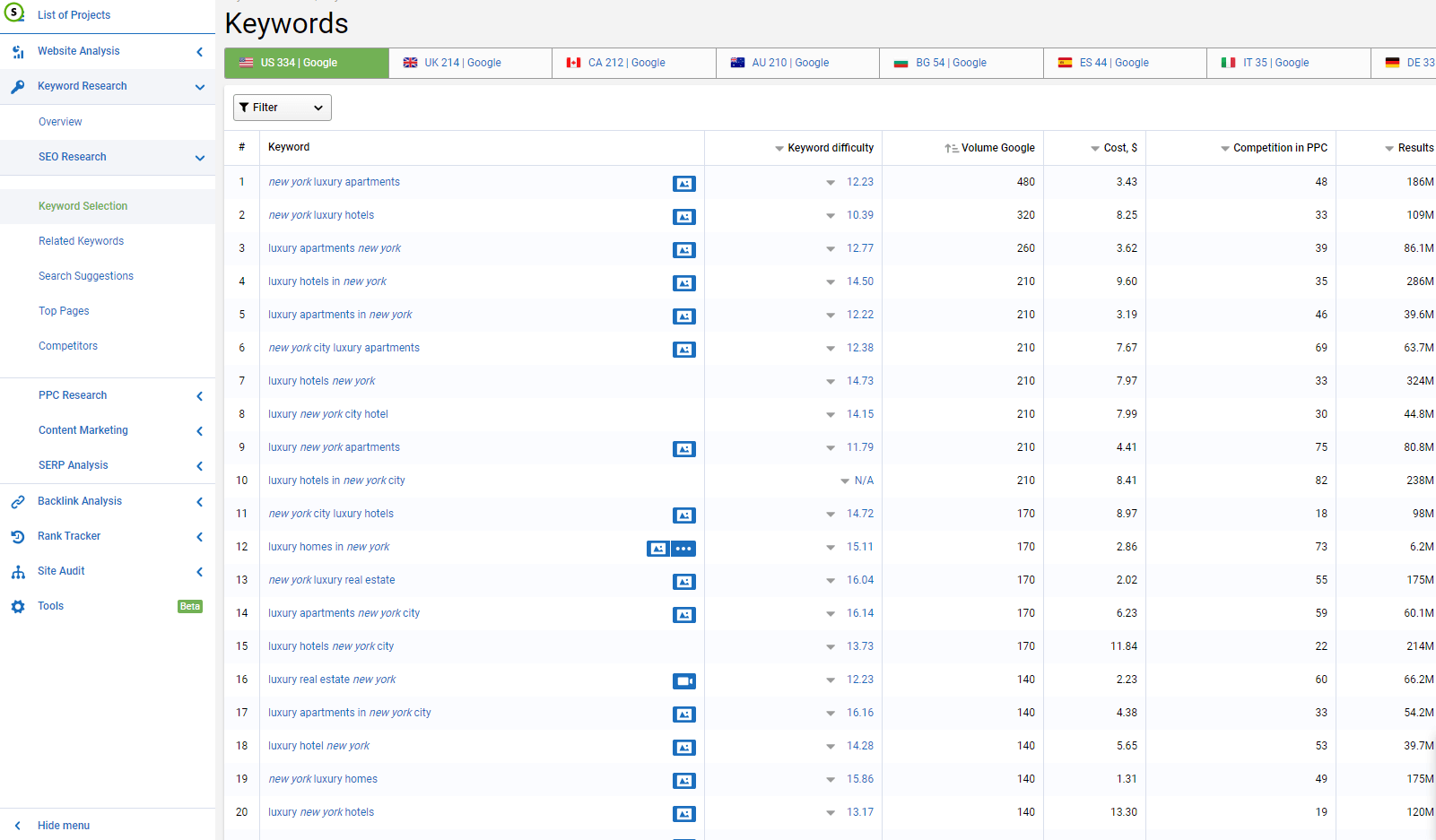 The screenshot below is For Search Suggestions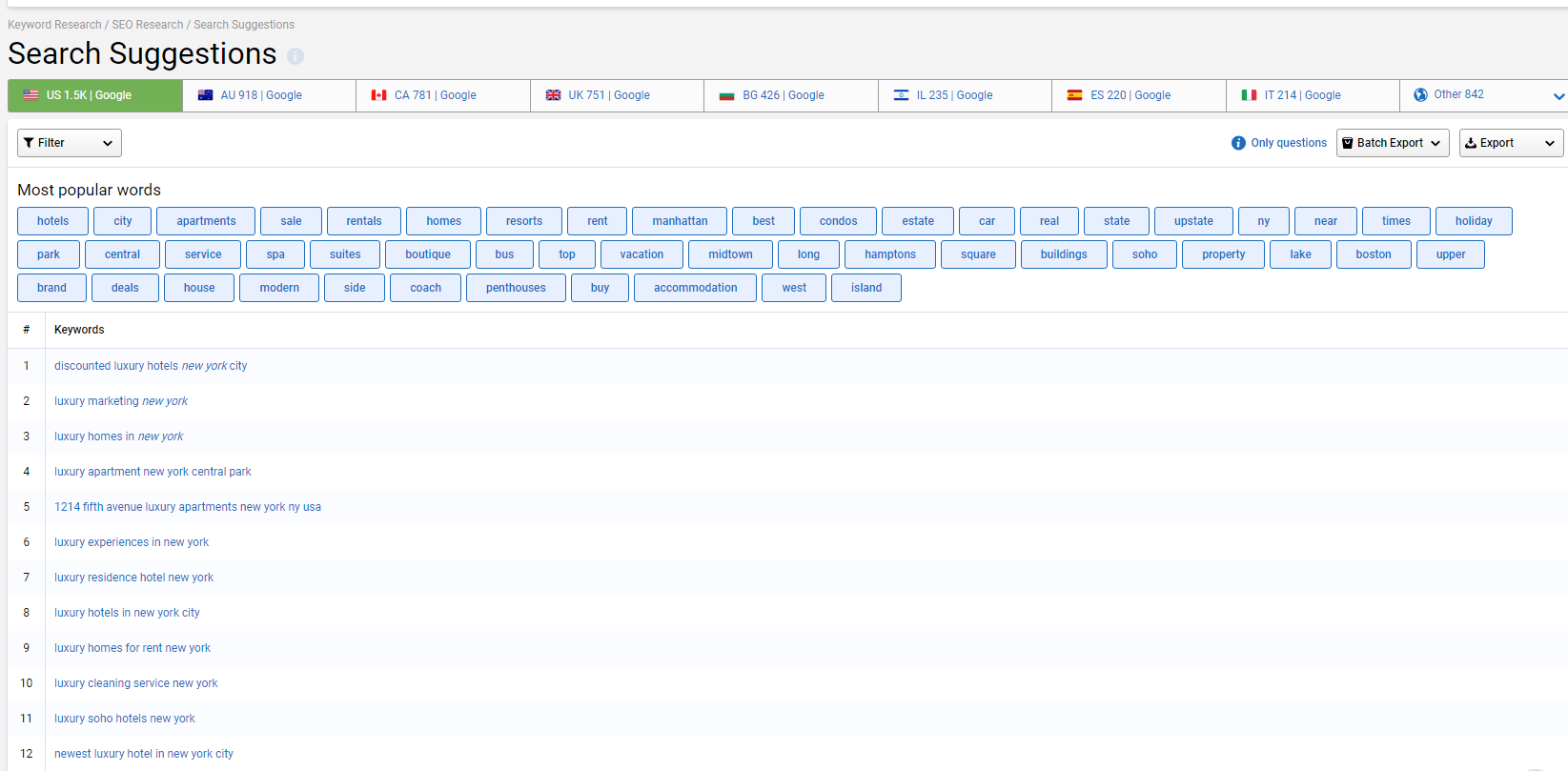 The Screenshot below is For Search "Questions"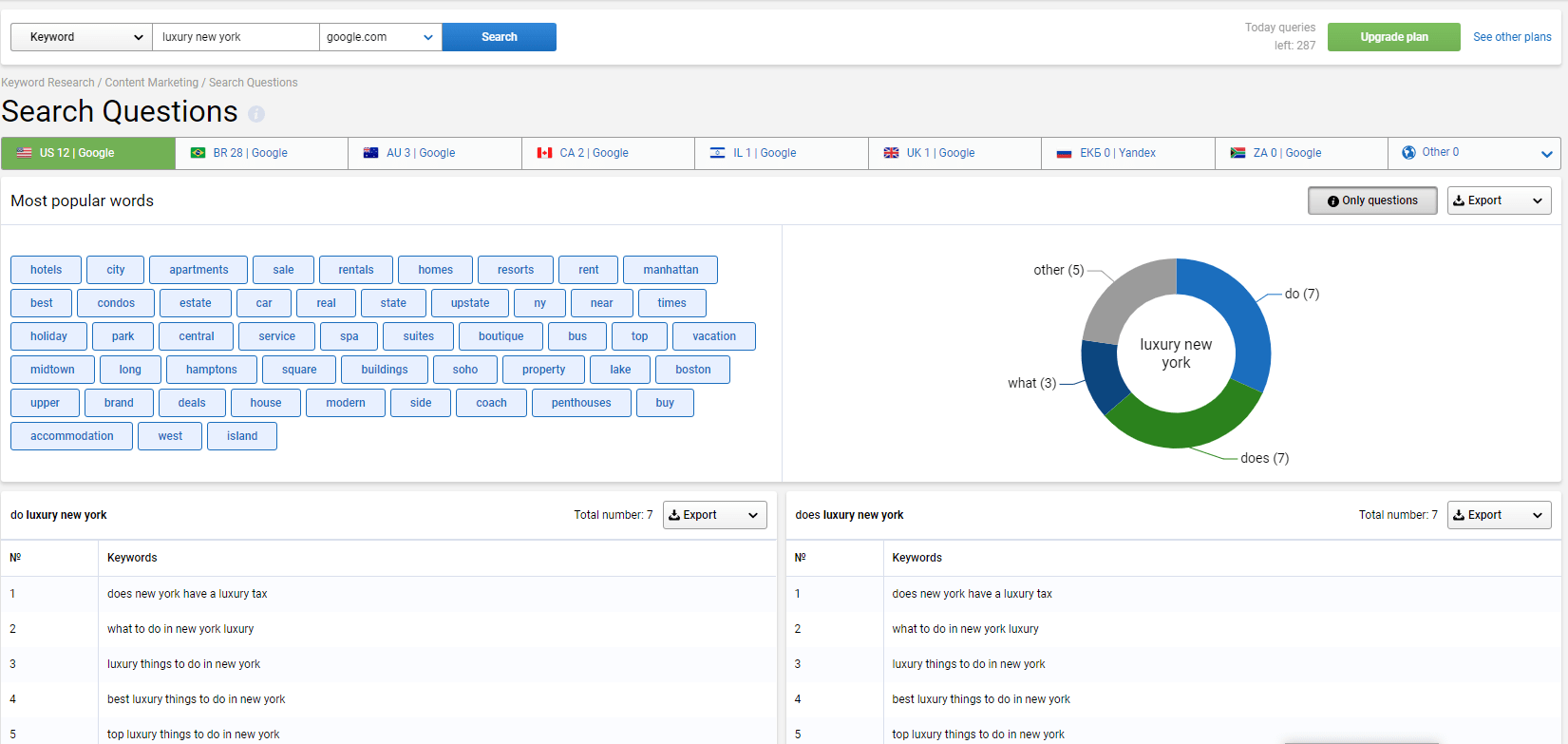 Here is what I found just with a couple of minutes (and 2 clicks 🙂 research in Serpstat
Apartments, Houses, Hotels, Cars, Dealerships, Cabins, Townhouses, Condos, Car Rental, Resorts, Penthouses, Spa, Interior Design, Log Cabins, Outlets, Lofts
Digging Deeper…
Lets check out some other search options within Serpstat by digging deeper into some of those niches we found from the Seed keyword search.
Luxury Lofts…
We find keywords likeluxury lofts in new york for saleluxury lofts for rent in new york city$30 million luxury loft apartment in tribeca new york cityluxury lofts for sale new yorkluxury lofts for sale in new york cityluxury lofts for sale in new yorkluxury lofts in new yorknew york city luxury lofts for saleluxury lofts new york cityluxury loft apartments new yorkluxury lofts in new york city
These may not be high traffic keywords and there is very little PPC ads for them according to Serpstat, but these may offer an easy way into the lucrative high value Luxury apartment niche
Luxury Cabins…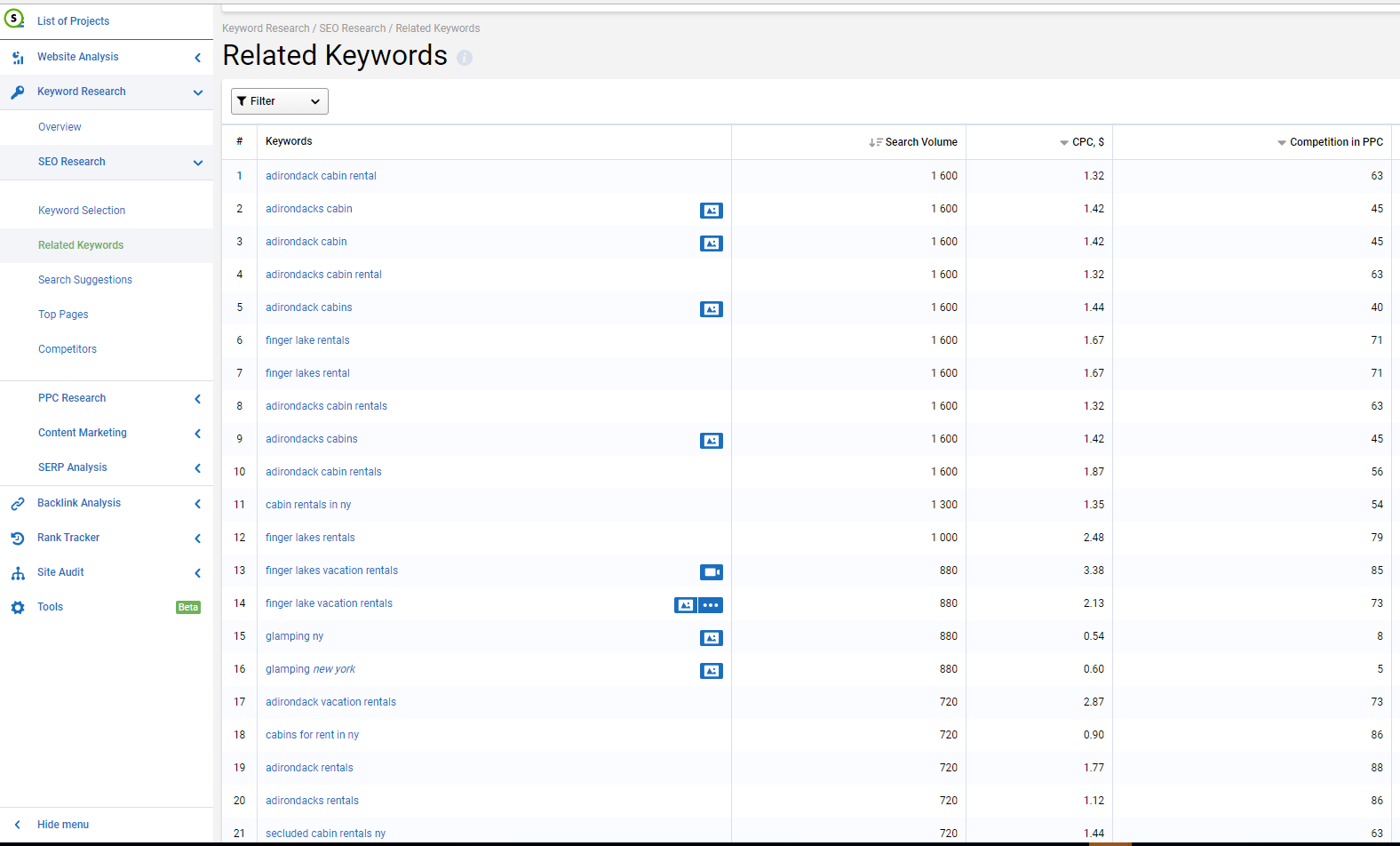 This one is interesting and the popular keywords with "Cabins" in the search are:luxury log cabin rentals new yorkluxury cabin rentals new york stateluxury cabin rentals new yorkluxury cabins new yorkluxury log cabins new yorkupstate new york luxury cabinluxury cabins in buffalo new yorkupstate new york luxury cabin rentalsluxury log cabins upstate new yorkluxury log cabin rentals new york stateluxury cabins in upstate new yorkluxury cabins finger lakes new yorkluxury cabins in new york stateluxury cabins near new york
This could be a niche worth looking into, but not just for the keywords above. In fact a quick glance at the SEO keywords and suggestions shows a bunch or related terms and throws up some interesting options with reasonable "quick win" traffic keywords.
We find here some of the following that I grabbed quickly for examples…
Brand namesModifiers like secluded (720 month search volume)Glamping (wtf!)Names of lakesModifiers like "upstate", "vacation", "rentals", "lodges to rent", "cottages""Mansion for a night" (wow 320 searches per month!)A Typo "Adk by owner rentals" (110 search volume per month)So you can see that in just a few minutes that we can dig much deeper into the results from the seed keyword and come out with a bunch of ideas for niches. This may be the most important part of the Rank and Rent strategy so spend time and use tools that can help you analyse and dig deep enough to come out with a few ideas worth investigation more.
Here are a few helpful tips to find niches and to use in your Rank & Rent Campaigns
Look for niches with PPC ads
Look at the value of the PPC ads
Look at the competition for PPC ads and consider whether they would buy leads from you if the rank and rent property is hard to sell.
Check to see if there are any affiliate programs within that niche by looking in google search, Offervault, Affbank, oDigger as this maybe give you additional revenue or can be used as a get of of jail option if you cannot sell or rent your property (website, landing page, videos, channels etc)
Reverse engineer your competitors by using tools like ahrefs, serpstat, semrush and look at their rankings, traffic, keywords and their websites or videos that they are ranking for.
Create a quality landing page to drive or refer traffic to based on what's working now within your niche or use Lead Genesis.
Always have a landing page even if your using the YouTube methods to rank and rent.
Consider other methods of traffic, not just SEO. For example you could run some social media campaigns to it and use tools like Upviral, AdPow, Perkzilla to make the campaigns viral with competitions, giveaways and rewards.
SEO is great but it's it's just ONE traffic method that's available to you and other methods may offer a simpler, easier and lower cost entry to highly targeted traffic.
Look for sites that have previously sold on Flippa for the niche and see what their site design is like, look at the lead capture elements, what keywords they rank for and their traffic methods.
If you are doing the website and landing page model then use video from YouTube too. Personally I would always do both and use the RankAttack SEO system for some quick wins.
Look for keyword clusters that you could easily use to target with one video with a Vid Attack Alpha campaign like I teach in the RankAttack SEO system
why would a business want to use your rank & rent service
In simple terms they would be interested in any and ideally for them, all of the following…
More Leads
More Customers
Lower Cost
More Profits
Ready Made Traffic
How to know what to Charge for your rank and rent services
This is a tricky question but I suggest that you check out affiliate offers, CPA offers, PPC costs and use that as a starting point to create your valuation from there.
Don't forget to take into account what a customer may be worth to a business. High volume customers maybe less value per customer but even then there is the repeat customer value too. If the niche is likely to generate repeat customers for that business (high volume or not) then the customer value increases.
Some businesses may be seasonal too and that means that your niche maybe less valuable for long periods of the year and then very high value for a short while. Do not discount these nihes as you can set it up and benefit long terms from it and in some cases perhaps with less competition
is rank & rent easy to scale?
Again this really depends on the niche and type of businesses that you are targeting.I would suggest that it's simpler to work on one niche and really get to know and understand what works well and by that I mean more than keywords and SEO strategies. In fact everything from landing pages, offers, busiest times, where to find targeted audiences, whether you can run some viral social media campaigns quickly and easily and if there are large communities available to tap info from facebook groups, Google plus communities, Linkedin groups and forums.I would also suggest that checking out your potential niche on places like buysellads.com and even looking for advertising opportunities from Ezines and newsletters might be a great way to really asses the One niche only approach.Classified ads sites can offer decent traffic too at low cost.As I mentioned above, SEO is just one traffic strategy that's available to you, and if you want to dig into one niche and build it out into multiple locations then you really should consider and try the other traffic options available to you as well as search engine optimization.My guess is that with many niches, that you might be surprised how easy it is to scale with some quick traffic wins that are less painful and time consuming than gruelling SEO campaigns where you might not see traffic for months. In other words do the SEO but get into other traffic methods and test them while your SEO campaigns are on going.
You need Data to sell the rank and rent property and if you can test some low cost traffic methods to improve the traffic volumes then these can be costed into your Rank and Rent pricing
what would make good upsells to rank & rent?
This is something that you rarely hear being discussed on the Rank and Rent tutorials around the web but it's got huge revenue potential.For example if you have a high traffic site you could add your own adverts into the site with adsense, banners and offers and negotiate to keep that revenue even when the site is rented.For anyone renting a website from you they may be interested in some YouTube or facebook ad campaigns, viral traffic campaigns and additional high converting landing pages.The easiest way to do this is look at the tools that you have and I bet you have many if you have been buying consistently from JVzoo launches and see if there are some quick easy services that you could provide with them.I recently did a post that you can see some suggestions for this and get some ideas – Beyond the Rank & Rent Local SEO Model
what alternatives are there to rank & rent?
Local Lead Gen Affiliate Offers would be the most obvious option and this includes signing up with some affiliate programs that pay you for leads. In fact, this is a natural progression from the Rank and Rent model to using your websites as lead generation sites that you make money from rather than renting out to a business.I mentioned earlier in this article about reverse engineering a site on flippa and, what was meant to be a quick glance into that website, eventually turned out to be several hours digging deeper and deeper into the world of insurance lead generation.What I discovered was some well organised businesses taking advantage of this business model and generating revenue, upwards of half a million per year in niches like auto insurance.I may do a course or an article on that at a later date, but I can tell you that was a gruelling journey just doing the research and reverse engineering to really understand the what, how and who type questions, to find "some" of the answers that I was looking for, and would really take a lot more hours to dig deep.It's definitely doable, even in that niche, but you would need to be very smart, well organised and have a clear plan of action before starting a business like that.
Rank and Rent is a simpler model and the real power would come from being able to scale, and so with that thought in mind it's time to get started on my RankAttack Rank & Rent course which will be followed by a broader Local SEO course.Access to these courses are now closed and unlikely to be made available again, if you got in then you made the right choice to grab the offer when it was available.For those who missed out this time, then keep an eye on my affiliate promotions as I may start to offer some new courses in a few weeks when I have completed the local SEO courses that we are working on now.I may at some point make the local SEO courses available for sale but the idea behind it was really to just record me setting up a real agency for myself…hence the reason I gave something of such high value as a bonus for some affiliate promos. It's more likely that some of the local courses may become available with new software products that I will inevitably build as I go through the local seo journey.
Sign up to my list and stay on it to take advantage of some great tutorials such as this one, and get some awesome bonuses for product launches that I promote as well as discounts on new Alpha SEO tools when they are released.Speaking of which, did you check out the demo videos on TubeKit Alpha yet?
You can also check out some other free SEO courses below
The RankAttack SEO System Case Study