Optimization Alpha was always one of my favorite tools since we created back in 2016. In fact that was based on some previous tools that were probably ok for a launch on JVzoo although we never did a launch with them and when we sat down to create a bigger better alpha tool suite for optimizing YouTube videos it was time well spent.The new Tubekit rebrand is a first stage in what will be an ongoing project which will likely mean more tools added to it.
Introducing TubeKit Alpha…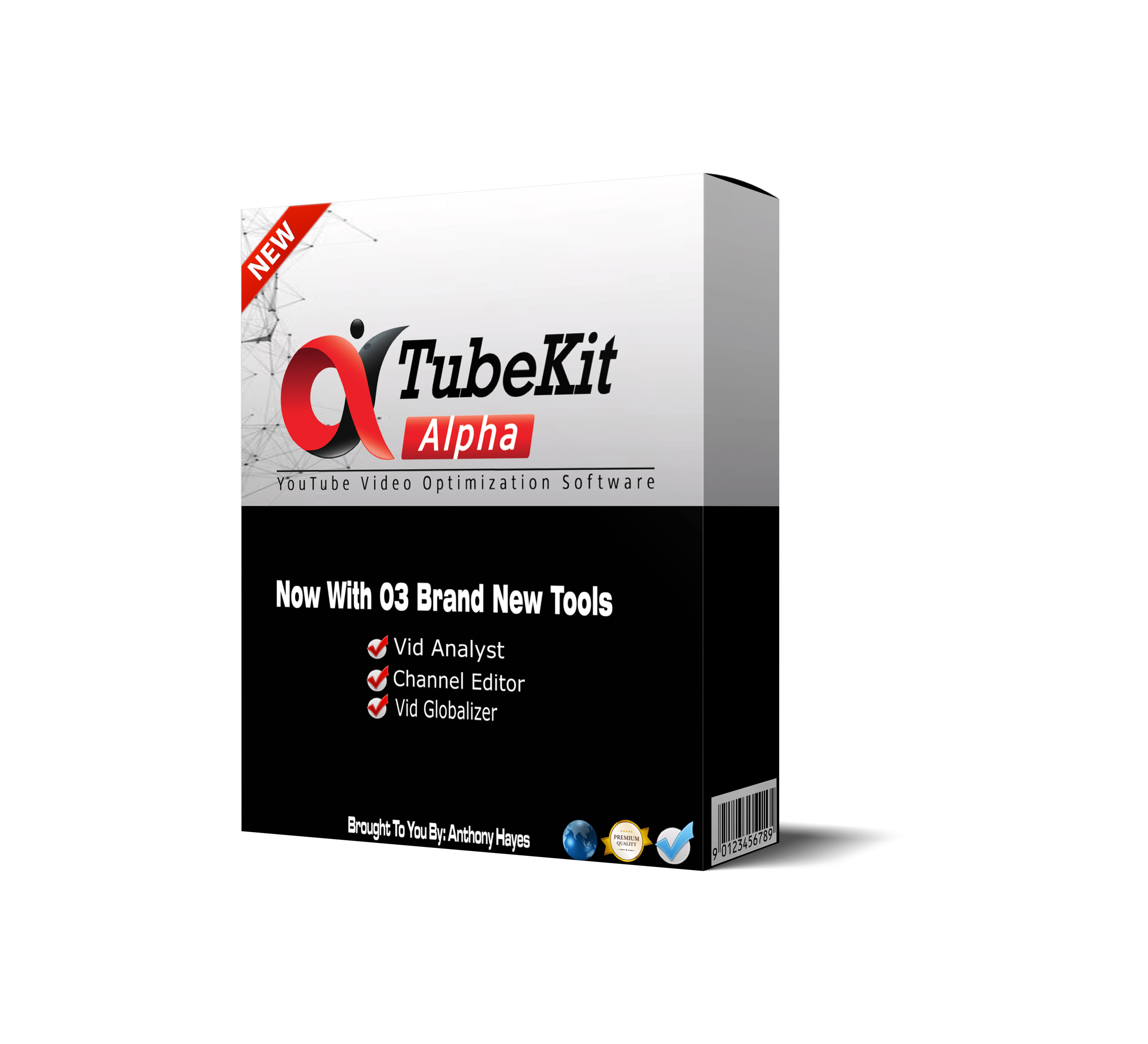 First let's look at changes and additions that we have added to the main Optimization Alpha tool which will now be named Tubekit Pro version​.… and then we can look at3 major new tools added to the upgrade which is being named as TubeKit Alpha.
Tubekit Pro (Optimization Alpha)
The Google Answers Snippets Tool…
We have added people also ask scraper and this tool will pull in not only the questions but also the answers that rank on the first page of Google.We have deliberately throttled the amount of requests that this tool does in order to maintain the relevance for the seed keyword search.There are several tools now that pull in the questions but none that scrape the answer too.Many of those tools go too deep in my opinion and they start to lose relevance fast.These can be imported into the main text editor and re-written but more importantly it gives you the answer exactly as it appears on the snippets in google so that you can replicate the format and improve on the answer without needing any guesswork on the content format that Google will rank.
The Transcriber Tool…
We have added the ability to search for videos with this tool and to add a url of a YouTube video that you know has subtitles.
This allows you to download the subtitles with or without timestamps and as Google don't seem to be indexing the subtitles this can give you content that does not need a huge amount of editing if you want to use it without duplication issues.However this goes way beyond some SEO benefits, this can be used to grab high quality copy from sales videos that people have paid a lot of money to have created for their video sales letters or it can give you the copy from high converting video reviews.
The possibilities will go way beyond that but these are 3 immediate benefits that come to mind immediately.
The "Get Video Data" Tool
This too is part of the optimize video tab within the main TubeKit Pro suiteYou can now search for anyone else videos and pull in complete Title, description and tags whereas before it would only allow you to do this for your own videos.This can give you some instant ideas for sales videos, SEO optimized descriptions (think of videos that rank with Featured snippets for videos for example) and informational or even review videos.These are three great additions to the main tool for existing customers and improve the tool significantly.
Now the 3 brand new tools that we have added and are only available in the TubeKit Alpha version.
These are…
Vid Analyst
Channel Editor
Vid Globalizer
Let's Look Deeper At The Vid Analyst Tool
Vid Analyst is a powerful new tool to score your optimization for YouTube videos. It goes way beyond the original tool that in fact it's a totally different beast with a much more powerful scoring algorithm that covers many optimization points.To make this tool we looked at both VidIQ and TubeBuddy apps more in depth to see what they were doing and also what was available via the YouTube API with the intention of adding our own YouTube optimization scoring points.See the screenshots below to see what we have done with this to improve your YouTube SEO analysis and this will give you an indication for future direction of the tool as we can take this quite far with the right pricing structure.Some of the main advantages of what we have done here is that there are no limitations on how many channels you can use with the tool and no extra to be paid for using it with multiple channels.It also has our own SEO calculation algorithm built in from knowing what ranks videos in both YouTube and Google, many of these are not taken into account with other tools.
Check out the Vid Analyst screenshots below
(Click to zoom in)
We have also added in a clean and interesting user interface and cover
Here are just some of the features of the Vid Analyst Tool
Badge
Badge
Badge
Badge
Badge
Badge
Badge
In total there are 42 optimization scoring elements factored into just the SEO analysis.You are also able to do analysis with this tool using any YouTube URL so that you can see what your competitors are doing in an instant.
Let's Look Deeper At The YouTube Channel Editor Tool
This tool has exceeded my expectations and watching it being built out was both exciting and gratifying.This gives you a cloud video of all your YouTube "Public" videos and their optimization scoring in a simpler format than the Vid Analyst but in a really useful way that you can see the main optimization points to fix immediately.You can also edit your thumbnails here, update your titles and descriptions and see in an instant your seo scoring for your title and description and edit both as well as tags within the software.If you want a deeper insight you can send any video to Vid Analyst for deeper analysis.The power is in the simplicity and it also has an analyze button in the main interface to re-score your optimization after any changes made.See some screenshots below
Check out the Channel Editor screenshots
(Click to zoom in)
Let's take a Look At The Vid Globalizer Tool
This is a power tool, a traffic tool and there is nothing like it on the market.With the Vid Globalizer you can assign channels for specific languages.How does this matter and get more traffic?Well, what I wanted was a clean way to do translations that would build authority, get more rankings in more languages but be done nicely as to not appear spammy or messy.So for example if I upload a video to my main YouTube channel in English.I can then use the Vid Globalizer tool to
There is a little bit of work to be done here initially setting up these channels and permanently assigning them to specific languages within the Vid Globalizer tool, but once it is set up you will have your videos auto uploaded and fully optimized for each language and each video going into it's specific language assigned channel.This voids uploading the video into just one channel which looks both spammy and messay and it also takes it much further than the automated translation tool we have in the main Tubekit Pro which translates videos inside your main YouTube channel so that it can be found in multiple languages even if the search query is written in a foreign language.This is a new dimension with an extended set of optimization features done nicely, white hat and in a sensible way to be a useful addition to Youtube rather than a spammy look and feel with multiple languages in one channel.All of these tools may be taken further but we will focus on making what we have right now better and then we can assess where we are later depending on numbers of subscribers and the popularity of the tools.The old Optimization Alpha upgrades are already there and all you will notice is a new name and new branding apart from the updated features.The Tubekit Alpha version will be released in a few days and I will release some videos on each features before releasing it for purchase.
Optimization Alpha Rebranded To TubeKit Pro (New Tools Added)
TubeKit Vid Globalizer Tool
TukeKit Pro Vs TubeKit Alpha
Optimizing Language Channels For Vid Globalizer Strategy In TubeKit Alpha
Vid Globalizer Demo – TubeKit Alpha
​Automated Translations For All Languages Using YouTube Feature In Your Main Channel TubeKit Pro